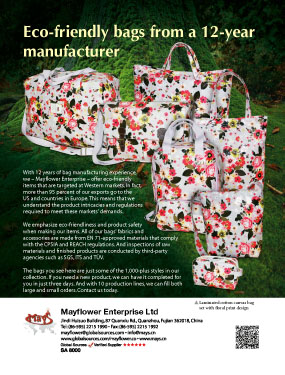 Share:




E-mail

Print

Bookmark
Mayflower Enterprise Limited

Follow me

90% of our products are exported to the US and Europe

3-day OEM sample lead times | 12 years' experience | ISO 9001:2000-certified

6 Star China (mainland)

Credit Check - Supplier Credit Profile

provides impartial credit and vital business metrics for select suppliers on Global Sources Online. Using the Credit Check reports, buyers can easily compare key indicators and more efficiently manage risk. Suppliers with a Credit Check logo have agreed to allow this information to be reported to help buyers streamline the selection and due-diligence processes.

The supplier information below has been obtained from relevant government agencies in the supplier's country and is subjected to change without prior notice. Credit Check and verification procedures were conducted by First Advantage, a third-party credit agency.
Read Disclaimer


Registered Address:
Room 07-08, 5/F., Zong He Building
Feng Ze Commercial City, Dong Ze Road
Feng Ze, Quanzhou
China

Incorporation Date:
July 08, 2005
Legal Form:
Limited Liability Company
Company Status:
Live
Registration Agency:
Administration of Industry and Commerce, Quanzhou City, Feng Ze District Branch
Registration Number:
3505032002632
Authorized Capital:
RMB 1,000,000
Paid-Up Capital:
RMB 1,000,000
Legal Representatives:
Xu Xiao Mei
Import & Export Licences Obtained:
Yes
Business Scope:
Selling of ceramic, resin, wood, bamboo, paper, rattan and iron made handcrafts, ironware, knit & textile, electronic products, general merchandise (shoes, suitcase, clothing, umbrella). Self-operating and as an agent for import & export of all kinds of merchandise and technology (except items that are prohibited and restricted by the Government).
Business Permit Expiry:
July 12, 2015
Shareholders:
• Xu Jin Hua
• Xu Xiao Mei




Want a more detailed Credit Report on this supplier?



Contact Details




Mayflower Enterprise Limited
Jindi Huisuo Building
No. 87 Quanxiu Road
Quanzhou
Fujian
China 362000
Tel: (86 595) 22151990
Fax: (86 595) 22151992


Homepage Address
http://www.globalsources.com/mayflower.co
Other Homepage Address
www.mays.cn


Chat with supplier using:

Key Contact:
Ms Xu, May


Ms Zou, Kelly


Supplier and product information updated December 06, 2013.
Verified Business Registration Details
Registered Company: Mayflower Enterprise Ltd
Business Registration Number: 34349872-000-03-12-6
Company Registration Address: FLAT/RM 1501 15/F LUNG GUT HOUSE LOWER WONG TAI SIN ESTATE WONG TAI SIN KL


* In some jurisdictions, company names and addresses are registered in Chinese only.